Our immune system is what protects us from disease and attacks from harmful bacteria and viruses. So it's really important to keep it strong. Good nutrition is one of the key factors in keeping your immune system strong.
Nutritional studies have indicated that SEVEN key "superfruits" are instrumental in helping to nourish the immune system. These are Mangosteen, Goji Berry, Acai Fruit, Amalaki, Pomegranate, Cranberry, and Blueberry. In addition, these superfruits seem to create a burst of energy.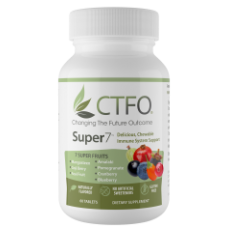 CTFO's Super7 is a delicious chewable combination of these seven superfruits. Just chewing two a day may help you maintain a stronger immune system. The chewables are naturally flavored and contain NO artificial sweeteners. They are also gluten-free. There is 325 mg of a proprietary superfruit blend in every one! Chew one in the morning and another in the afternoon for an energy filled day!
Imagine going through cold and flu seasons without having to worry so much about getting sick like everybody else around you. Feeling ready to go every morning as you take on your day. Super7 is what everybody needs.