Arthritis affects one in every four adults. By age 65, that is half of all adults. The two most common types are:
Rheumatoid arthritis (RA): An autoimmune disease in which a person's immune system attacks their joints, causing inflammation. RA commonly affects the hands and feet and leads to painful, swollen, and stiff joints.
Osteoarthritis (OA): A degenerative disease that affects joint cartilage and bones, causing pain and stiffness. It often affects the hip, knee, and thumb joints.
There are some studies on animals that suggests that CBD could help treat arthritis and relieve the associated inflammatory pain:
A 2011 study found that CBD helped to reduce inflammatory pain in rats by affecting the way that pain receptors respond to stimuli.
A 2014 review of the existing body of research on animals concluded that CBD may be an effective treatment for OA.
A 2016 study found that the topical application of CBD had the potential to relieve pain and inflammation associated with arthritis.
A 2017 study found that CBD might be a safe and useful treatment for OA joint pain.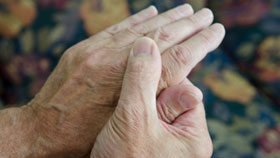 You may want to try CBD topical products, but you will have to make your decision based on anecdotal accounts.
Unfortunately, to date, there is a lack of scientific research on humans in this area. More research is definitely needed. However, the Arthritis Foundation has some guidelines about trying CBD oil for Arthritis symptoms.
If you are going to try this out for yourself, I recommend CTFO's CBD Pain Creams. Their hemp oil is designed not to have THC psychoactive compounds. And using the product topically only on the areas affected should help minimize any potential side-effects. Some of their products contain Emu oil which according to a review in the Journal Nutrition, may give inflammatory relief to arthritis.
Health benefit statements from these products have not been evaluated by the U.S. Food & Drug administration (FDA). These products are not intended to diagnose, treat, cure or prevent any disease. In Canada, Hemp is specifically regulated. Always discuss with your health care provider for recommendations regarding your personal situation.